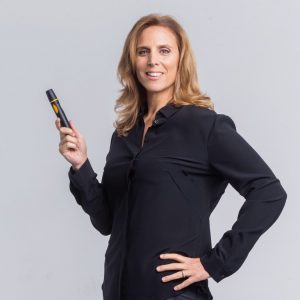 "I give people in organisations the belief that they can truly achieve change."
Power-Facilitation gives Jolie the opportunity to bring out the best in people to achieve breakthrough business results. Jolie is a seasoned business professional with over 20 years of experience leading teams to drive growth and build brands. Born and raised in California, Jolie spent most of her professional life working in Europe. She started her career at Procter & Gamble Germany, managing leading brands such as Pampers, Always and Punica. As a strategic marketing consultant, Jolie worked with large multinational as well as small and mid sized companies to analyze business challenges and deliver innovative and breakthrough solutions. She was Head of Marketing & Product Innovation Europe and Member of the European Management Team at Tivall, a subsidiary of Nestlé, and Ranir, a global leader in private label personal care products.
Jolie has extensive experience in fast moving consumer goods, food and beverages, brand, private label, pharmaceuticals and market research. She recently completed a one-year project managing and selling her family's business in the semiconductor packaging industry in Los Angeles.
Jolie holds a BA from Tufts University in Economics and International Relations and an MBA from the Thunderbird School of Global Management.